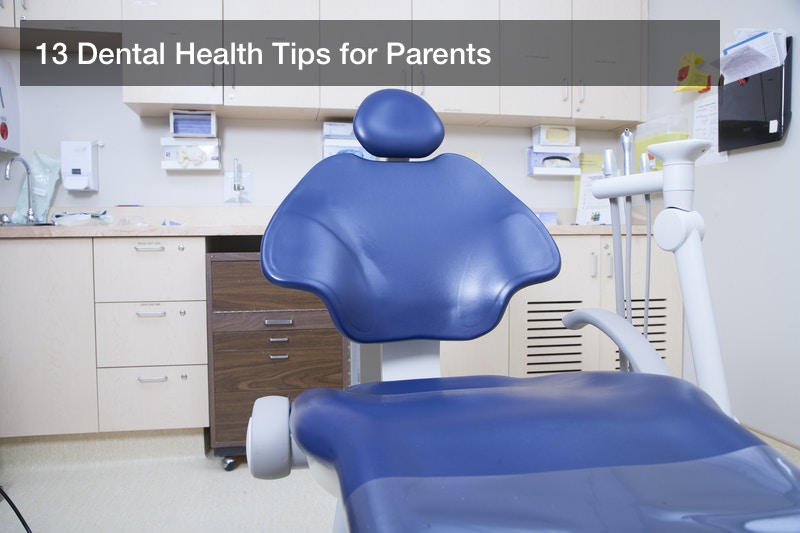 Updated 12/4/2020
As a parent, it's your job to ensure your child grows up healthy and strong. Good oral hygiene can protect your child's overall health and wellbeing. Making sure your child takes care of their teeth can be a challenge. Fortunately, there are things you can easily do to keep your child's smile healthy and beautiful. Here are 13 dental health tips for parents you can use to boost the oral health of your family.
Be Prepared for Surgery
As your children grow, they may have issues with their teeth not aligning properly. When it comes to dental health tips for parents, the best thing you can do is help them be prepared for oral surgery. Your child may need braces, and it can be difficult for them to adjust to metal and wires in their mouth. If your child has damaged teeth, they may need crowns or other dental procedures like tooth extraction that can be scary to them.
The dentist may use anesthesia during the surgical procedure to keep your child comfortable. After surgery, you'll be given special instructions for care at home. Your child's gums may bleed for a bit and you may need to change the gauze every 20 minutes until it stops. You can use ice packs to help reduce swelling and over-the-counter medications to relieve pain. Your child may be required to eat soft foods only for a few days until they fully recover.
Invest in Regular Teeth Cleanings
One of the best dental health tips for parents is to invest in regular teeth cleaning by a professional dentist. Building healthy habits will help them continue these activities long after your children become adults. During the visit, the dentist will examine your child's teeth and look for signs of decay. The dentist will use a tooth scraper to remove plaque and then brush and floss your child's teeth.
After cleaning, they may apply fluoride or sealants to reduce future risk. You can also discuss with your dentist ways to further protect your child's teeth at home between cleanings. Your child should have a professional cleaning done once every six months. You may also want to offer a hesitant child a reward to encourage them to have a dental cleaning. Rewards should consist of an activity the child enjoys instead of items like candy or ice cream.
Pay Attention to Dental Practice Marketing
When considering a dentist, pay attention to the dental practice marketing of the service providers in your local area. Many dentists have websites and social media platforms where you can learn more about them. This can help you immensely in narrowing down your choices to find the best fit. Look for information regarding the dentist's experience, education, and accepted insurance providers. The dentist should also provide educational resources to help you learn more about proper oral hygiene.
You can also use the dentist's online marketing to learn more about what previous clients have to say about their experience. Check out review sites such as the Better Business Bureau to discover any customer complaints. One of the unusual dental health tips for parents in finding a good dentist is reaching out to dental practice brokers. Since they're in the business of helping dentists buy and sell their practices, they most likely have good relationships with local providers.
Visit a Pediatric Dental Office
Another one of the best dental health tips for parents you may want to consider is to find a dentist for children. Thes pediatric dentists specialize in issues directly affecting your children and can recommend appropriate treatments. Dental appointments should start as soon as your child gets their first tooth and be regularly maintained twice a year. You may want to schedule a consultation appointment at first so your child can meet the dentist in a friendly and safe way to help them feel comfortable.
Consider Teeth Whitening
Many adults use teeth whitening to help brighten their smiles. Children can benefit from teeth whitening as well. Your child should have all their adult teeth before you consider using whitening products. This usually happens when your child reaches 14 years old. Products containing hydrogen peroxide are better for children to use when teeth whitening. Make sure the products have low concentrations of hydrogen peroxide to ensure your child's safety.
There are also many toothpaste products you can use that contain teeth whitening ingredients. When it comes to the best dental health tips for parents, you should strongly consider leaving teeth whitening for your children in the hands of a professional dentist. Whitening at home can have disastrous results that can damage your child's teeth. A dentist will know how to perform the procedure safely to protect your child's teeth and gums.
Understand Basic Dental Terminology
Some people may be afraid to go to the dentist because dentistry uses terminology you may not understand. Understanding certain basic terms used can help you and your child have a better experience during your visit. One basic term you may hear often is plaque. This is basically bacteria and food debris that has hardened on the surface of your teeth, which can cause them to become discolored. Your teeth consist of an outer layer known as enamel, a middle layer referred to as dentin, and inner blood vessels and nerves referred to as pulp.
Crowns are artificial teeth replacements above the gum line. Gingivitis is swelling or inflammation of your gums. Halitosis refers to bad breath. An abscess is a tooth infection that's caused by trauma or decay. Periodontal disease is jaw inflammation that can create permanent damage if left untreated.
Save for Orthodontic Treatment
Another one of the dental health tips for parents you should consider is saving for orthodontic treatment. Dental procedures can pop up unexpectedly and hit your wallet hard. Braces can cost over $3,000 without insurance. Even with insurance, you may be responsible for certain costs. You may want to consider speaking with an accountant on ways to save money for braces and other corrective procedures as your children get older.
If you don't have dental insurance, you may want to consider comparing plans to find one that works best for your family. If you can't get dental insurance, you may be able to qualify for reduced rates or payment plans with the orthodontist. You can use tax-exempt savings accounts to save money for orthodontic costs. There may also be financial assistance programs you may qualify for. If there's a dental school in your local area, you may be able to receive treatment at little to no cost.
Maintain a Balanced Diet
By modifying your eating habits, you can protect your family's teeth against decay. By maintaining a balanced diet can give you family the nutrients they need for healthy teeth and gums. Crunchy vegetables can help clean teeth while dairy products provide Vitamin D and calcium. Instead of having a greasy pizza delivered, make a gluten free pizza together as a family. Limit foods that are acidic or sugary to help prevent cavities.
Taking probiotics can help decrease plaque and gingivitis. Green tea is rich in fluoride and can help strengthen teeth. Chewing gum between meals helps produce saliva to clean teeth. By eating healthy, you can also lose weight. This can help decrease fat cells that release inflammatory agents into your mouth that can cause gum disease and other serious health issues. Limit processed foods and choose fresh whenever possible.
Insist on Brushing Teeth Twice Daily
One of the dental health tips for parents you shouldn't ignore is insisting your family brushes their teeth twice a day. This will get rid of bacteria that can lead to gum disease. You may also want to ensure that your water is clean and properly fluoridated. Fluoridated water can help protect against tooth decay. Consider consulting a plumber to have your water tested for fluoridation and purity levels.
To make sure your children are brushing their teeth twice a day, brush your teeth with them and make the experience fun. Everyone should clean their teeth thoroughly for at least two minutes every time they brush. Make sure you use the right equipment, depending on the child's age. There are infant wipes to clean a baby's gums and young children should have a soft-bristled toothbrush designed specifically for kids. Make sure to use fluoride toothpaste and change brushes at least once every three months.
Use Mouth Guards to Prevent Injury
If your child participates in sports, one of the best dental health tips for parents you can use is to make sure your child wears a mouthguard. This can help prevent dental injuries from occurring. A mouth guard covers the upper teeth to protect the lips, cheeks, and tongue. Make sure to clean and rinse the mouth guard before and after each use. These devices can be worn over braces to help protect them from potential injury.
A dentist can make a custom fit mouthguard for your child to give them the best protection. This can be an excellent investment to avoid costly dental procedures in the future. You may also want to consider special mouth guards at night to eliminate teeth grinding and biting that can damage teeth while your child sleeps.
Investigate Periodontal Dentists
At some point, you may need a specialist to help you with your family's teeth. Another one of the best dental health tips for parents is to investigate local periodontists. A periodontist can help you with issues involving swollen gums and loose teeth. Make sure the periodontist you choose is board certified and has years of experience working with both adults and children. You may also want to inquire about emergency services and accepted insurance plans.
Use the Best Dental Products
To practice good oral hygiene, you need to use the best dental products that are appropriate for each member of your family. You can consult with your dentist to get recommendations. Children should use a toothpaste containing fluoride and use toothbrushes that are age-appropriate. To encourage proper brushing, your children can use electric toothbrushes or pick out their own to use. You may also want to consider investing in water picks, floss, and tongue scrapers.
Make sure that children thoroughly spit out toothpaste and mouthwash. Ingesting the ingredients in these products may harm your child's health. One of the best dental health tips for parents you can use is to test your child first using a cup of water. If they can successfully spit it out, they can handle using mouthwash. Use a pea-sized amount of toothpaste until you're sure they won't swallow it.
Have a Dental Emergency Plan
Having a dental plan in place for emergencies is one of the most important dental health tips for parents available. Active children increase their risks for falls and injuries that can damage teeth. If your child experiences an injury to their mouth, there are things you can do to help minimize the damage. Apply pressure to stop any bleeding and clean the wound. Take your child to the dentist or emergency center right away.
If your child's tooth gets knocked out, pick it up carefully without touching the root and place it in a glass of milk or saltwater. The dentist may be able to repair and restore it to your child's mouth. It's also a good idea to have a dental emergency kit on hand. This kit should include gauze, mouthwash, cold compress, and a small cup. Keep it next to your first aid kit for easy access.
In Summary…
Healthy teeth and gums contribute to overall health for both adults and kids. For parents, some of the ways you can help promote healthy dental practice are to encourage your kids to brush twice daily for at least two minutes. Also, teach them how to brush properly, getting the gums and top of the teeth clean. And don't forget about the back teeth! Another proactive step parents can take is to get regular dentistry services for their kids. Regular cleanings are essential to maintaining healthy teeth and gums. If your child is saying, "I need help with my teeth," or if they hurt then be sure to get them to a dentist. If you don't have insurance, make an appointment with a dentist that accepts cash payments. To find one, do a local search and look at the dental info for each dentist. The information about payments may be in the about dental clinic section. There are dental clinics across the United States that see patients without insurance so you shouldn't have any trouble finding one near you.
By following these dental health tips for parents, you can help ensure your children's teeth are protected. Healthy teeth and gums are important to prevent other serious illnesses from developing as your child gets older. If you don't currently have a family dentist, start looking for one today. Investing in your child's teeth is one of the best things you can do for your children to have a healthy and successful life. Use these tips to keep your family's smiles healthy for life today!
More:
1 year old baby brush teeth, 1 year old teeth care, 1 year old with cavity, 11 5 20, 2 year old child cavity, 2 year old with cavities in front teeth, 2 year old with holes in teeth, 3 year old at dentist, 3 year old baby teeth, 3 year old cavity molar, 3 year old has cavity in molar, 3 year old rotten teeth, 5 year old brushing teeth, according to the text school age children's growth is, ada dental health month, age to brush baby teeth, age to start brushing baby's teeth, baby mouth hygiene, baby teeth care tips, baby teeth problems, best mouthwash for toddlers.