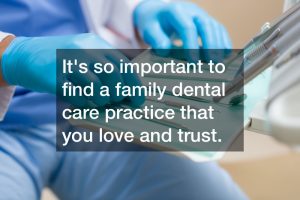 Regular dental care is critical for family members of any and all ages. That's why it's so important to find a family dental care practice that you love and trust. This will make all your regular appointments go much smoother and will even motivate your youngsters to practice good oral hygiene.
So what exactly should you look for in family dental care? First and foremost, you want a dental practice that can accommodate the age range of your entire family. If you have young children in your family, you'll want a dental practice that has a pediatric unit or at least has dentists who are highly trained and educated in interacting with children. Little kids require much more patience and skill from those providing dental care. The same is true for elderly family members. Geriatric oral health is much different than a person's oral health at other stages of life, and it's important to receive dental care that reflects this.
To find a dental office for your family, you should start by asking your existing healthcare professionals. Ask your primary care physician, pediatrician, or other trusted medical professionals for referrals for dental practices in your area. This is a great starting point to start your search for the perfect dentist.